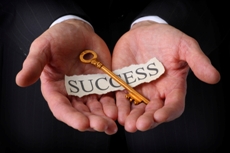 These days many people from all walks of life are getting interested in leaving their jobs and pursuing their business dreams. If you have the will and desire to start your own business you should know that beginning to think and act like an entrepreneur is the first step to bring your vision to fruition. With that thought in mind, remember that there are a plethora of success habits that entrepreneurs need to cultivate in order to ensure that they are successful at becoming an entrepreneur and a businessman. Here are three characteristics of a successful entrepreneur:

1. Focus on Self-Improvement
Entrepreneurs realize that they play a very primary and powerful role in determining how successful their businesses become. While they are oftentimes focused on external activity transpiring around them, they are also constantly thinking about ways by which they can improve themselves. This should become your habit. There are innumerable ways that you can improve, and you can get started anywhere you feel comfortable. One particularly effective strategy for self-improvement is taking care of your health. When you operate in optimal physical and mental well-being, your self-confidence increases, you attain greater clarity in thinking, and you decrease your susceptibility to a plethora of degenerative conditions such as cancer, heart disease, and diabetes.