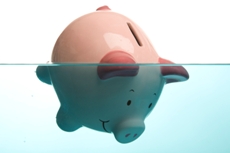 Companies don't just go under because of poor management or difficult economy. They also fail for many other reasons such as accepting more orders than they can service, and running out of cash as they try to keep up. Unfair laws are another possibility. For instance, in Britain, utilities have the legal right to underestimate the energy consumption of their small business customers for years, and then back bill them for thousands. Since British businesses are often maximally credit-leveraged, they quickly founder in debt when they are subjected to business shocks of this kind. How do you handle such a situation?
Statutory Demands for Payment
If your company is in debt for more than ₤750 to any one creditor, they are legally allowed to place something called a statutory demand for payment on your business. If you find that your business is faced with such a demand, you need to either negotiate with the creditor to put a repayment plan together within three weeks, or accept the fact that they will place a winding-up petition in court to have the company liquidated. This is something that you need to avoid at all costs.
Liquidation isn't just terrible for reasons of the consequences for your business endeavours, it is also bad news because after liquidation, the government may open an investigation of the directors for evidence of wrongful trading.
Your Options When It Comes to Avoiding Liquidation
The best way to avoid liquidation is to stay clear altogether of a statutory demand for payment. If your business is seriously behind on its debts and isn't able to service its obligations, you should voluntarily contact the creditor to negotiate a repayment plan.
External insolvency practitioners are an excellent option when it comes to negotiating such plans. These services are often free. With leading business insolvency agencies, small business owners can receive free, at no obligation expert advice on putting together company voluntary arrangements or CVAs to help avoid liquidation.
Having your company or business placed under temporary administration can be another way out. Under such an arrangement, an accounting firm is placed in charge of your company to try and manage its debts.
Important to be Direct with Your Trading Partners
Every business that finds itself seriously trapped in debt needs to squarely address its situation. Putting off doing so and trying to continue in business as usual is serious mistake, and can have legal repercussions. If things don't work out in the end, the court could investigate to determine if your business misled customers and business associates by putting on a false front as a going concern.